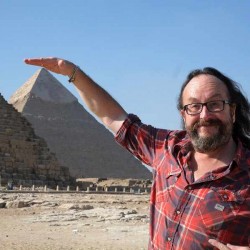 "Hairy Biker" Dave Myers is riding solo tonight without partner Si King for a new tour of Egypt airing on BBC2 at 9.00pm, entitled "A Cook Abroad: Dave Myers' Egypt".
The description of the show sounds really promising and includes Dave Myers' "haggling ineptly for souvenirs at Luxor". Something I've been guilty of on many occasions.
If your due to take Nile cruise or have already experienced one you will enjoy this programme I'm sure. I personally love Egyptian food and as I love "The Hairy Bikers" this is a programme not to be missed.
You can read more about this evening's show here: "A Cook Abroad:Dave Myers' Egypt".
Here's the description taken from the BBC's own website"
Hairy Biker Dave Myers travels to Egypt, home to some of the oldest recipes known to man. From the fantastic street food of one of the world's greatest cities, Cairo, to a family feast 500 miles south in ancient Aswan, Dave voyages up the Nile to find the origins of some of our favourite dishes.
On this epic adventure, Dave fulfills a boyhood dream to visit the pyramids of Giza and learns that they were built by labour fed on no more than the humble loaf. He goes off the beaten track to the lush oasis of Al Fayoum in search of a dish with mythical properties and, on the banks of the River Nile, discovers a place where ancient man first turned to farming. Venturing further into the land of the pharaohs, Dave finds what he's been searching for – the origins of baking and the living proof of a food that changed the eating habits of the planet.
To mark the end of his journey, Dave is invited by a family of Nubians for a feast to celebrate the end of Eid al-Adha. He helps prepare a traditional meal that has become legendary across the entire Arab world and receives hospitality he'll never forget.