Visiting Aswan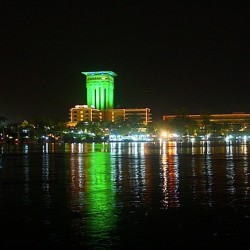 Because we'd been so busy it was hard to believe that we were only on Day 3 of our visit to Egypt.
Days one and two were in Luxor and now we were down in the beautiful city of Aswan staying at the uniquely located Movenpick Aswan Hotel.
One thing that was immediately noticeable was that it felt even warmer than Luxor. It was mid November and we were enjoying day time temperatures of around 28-29 degrees!. It was hot! Fantastic.
In fact it was lovely in the evenings too. Certainly warm enough to just be sitting at pavement cafes in just a t-shirt and light cardigan. Not something we're used to in the UK even in the summer and here it was November. Just 5 hours away from the UK and the weather could not have been more different.
We were greeted warmly by the friendly management and staff at the Movenpick Aswan Hotel after taking the water-taxi to reach the hotel. Our bags were boarded onto the boat and we didnt' see them until we reached our rooms.
The hotel is located on Elephantine Island right in the Nile itself and it boasts beautifully landscaped gardens all around and a beautiful swimming pool area and "wellness' centre.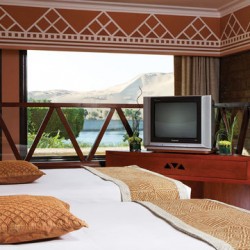 Our room was decorated in Nubian style and our view was right across the Nile looking to Aswan's waterfront. It was a beautiful view in the daylight and even more so in the evening when the city was lit up.
Other rooms face Kitcheners Island which has had spectacular  lighting installed to ensure the the island looks stunning in the evening.
We were shown around the hotel and there are some suites and bungalows available that sit right on the banks of the Nile and have spectacular views of Kitcheners Island. Holding up to 6 people or a family they would be a superb place to stay for a few days or more to chill out after your Nile cruise.
That evening we took the water-taxi into Aswan and joined the families and couples who stroll along the front enjoying the barmy evening air.
We stopped at a typical Egyptian cafe and ordered mint tea and Turkish coffee and sat and people-watched as our fellow customers puffed contentedly on their shisha pipes.
Aswan is such a beautiful city and it's people are renowned, even by their fellow Egyptians, for their friendliness and hospitality. That's certainly the impression we got as we walked slowly back to the hotel that evening.
One of the things that we wanted to do was to watch the sun go down over the Nile and the following day we were able to do just that from the vantage point of the spectacular Panorama bar in the tower of the Movenpick Aswan Hotel.
But more about that tomorrow….