Our Last Day in Cairo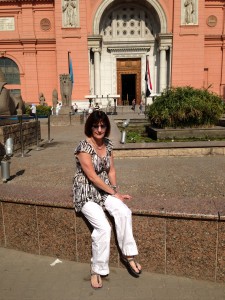 Firstly let me apologise for the break in my blogging.
Over Christmas Barbara and I took the family to…(where else?)…Egypt to ensure that we enjoyed some guaranteed warm sun shine without having to travel all the way to the Caribbean. We were not disappointed and enjoyed a fabulous week at the excellent Makadi Princess in Makadi Bay. But I'll tell you more about our trip and the hotel over the coming week.
Today I'd like to describe our last day in Cairo following on to my previous posts.
As you will have read we visited the Conrad Hotel for lunch and to have a look around after which we returned to our base hotel, the Movenpick Pyramids.
As I've mentioned previously the Movenpick Pyramids is situated very near to the Pyramids. In fact it's the last of 4 hotels that are nearest to the Pyramids. The first, and nearest, is the absolutely superb, Oberoi Mena House, then just behind that is the Meridien Pyramids, next to that is the Mercure Le Sphinx and finally the Movenpick Pyramids.
You can see the Pyramids from all 4 hotels but the Movenpick is the furthest away of the 4.
However, they are building the new Egyptian Museum almost directly opposite the Movenpick and when the museum opens it will have a wonderful position that will ensure that many people choose the Movenpick as their base.
It is currently having a brand new building being built and we were fortunate enough to be shown around the building in it's current state. It will be a really excellent place to stay and you can see from the few rooms that have been finished that it will be a much more luxurious alternative to the current rooms. I think it's due to open sometime next year and, as I mentioned earlier, it will be a very convenient place to stay when the museum is completed and open.
We normally suggest either the Mena House for those looking for a truly luxurious hotel to stay at and then either the Meridien Pyramids or the Mercure Le Sphinx for those looking for a slightly cheaper alternative but who still want to stay at a excellent 5 star property. However I think from next year onwards I think we will be recommending the new Movenpick too.
Tomorrow I'll tell you about our last evening in Cairo.