If you are already fed up with these afternoons when it starts to get dark around 4.00pm then you might want to think about taking a week in the sun. In which case taking a Nile Cruise in November is an ideal way to do just that.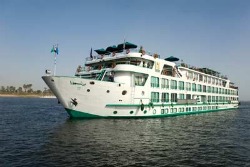 Prices are extremely competitive in November and we have some great prices in our Nile Cruise Bargains page including 50% off the second person sailing on the Viking Princess, the Royal Viking and the Alexander The Great on selected dates.
Plus we have some great prices on ships such as the 4 star Pioneer and the 5 Star Nile Style.
Barbara and I took a wonderful Nile Cruise on the excellent Royal Viking Nile cruise ship about 2 years ago and the weather was simply wonderful. We returned home on the 30th of November and the temperature was 80 degrees on the day we left.  We'd enjoyed 8 days of continuous sunshine but it hadnt' been too hot when we were visiting the temples and ancient sites.
If you can get away now then please feel free to call either Barbara or myself, Colin, and we'll look at all the possible options we can offer you.