We have just received a great Nile Cruise Testimonial from a client who has just returned from a Nile Cruise on the MS Grand Rose.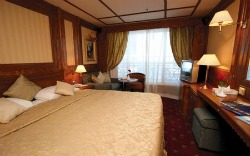 You can read the testimonial along with many others on our Nile Cruise Testimonials page. However to save you time here is a copy of Andrea's email:
Dear Barbara
Apologies for not contacting you before but I have felt "6 steps behind" since getting back from Egypt in the early hours of last Tuesday.
I want to thank you so much for all your assistance and advice prior to our holiday departure and for organising what we both considered to be the best holiday we have ever had!!  We have now got the 'Egypt bug' and can't wait to return, in fact, neither of us wanted to come home.
Everything you said about the trip was true and really I have to say that it was better than I had ever imagined.  For your info, we thought the ship Grand Rose was absolutely fantastic in every single way – the food, the crew, the organisation, the cleanliness – everything.  I am about to write to the head office of Grand Cruises to say so.
If you have a regular newsletter which includes 'offers', I should really like to receive it or if you have any special offers on Grand Rose please let me know.
Thank you again.  I have already given your details to a number of people.
Warmest regards
Andrea
April 2012